This past week, the S&P 500 index plunged to new relative lows. It is now trading at prices last seen in March 2021. This latest move downward violated support at 4100-4200 and prompted a swift move down toward possible support at 3900. The next support area below that is 3700 – the lows of February and March 2021.
The S&P
SPX,
-0.87%
is quite oversold, although as readers know, "oversold does not mean buy." Even so, oversold rallies accompany bear markets. They usually top out at about the level of the declining 20-day moving average or perhaps slightly above that.
The bulls have tried to engineer a couple of oversold rallies of late, but they turned out to be one-day affairs that – while looking spectacular for one day – had no staying power. Those occurred on April 28 and May 4.
Currently, the 20-day moving average is at 4240 and dropping rapidly. Above that, those two one-day rallies topped out near 4300, so that general area of 4240-4300 represents resistance.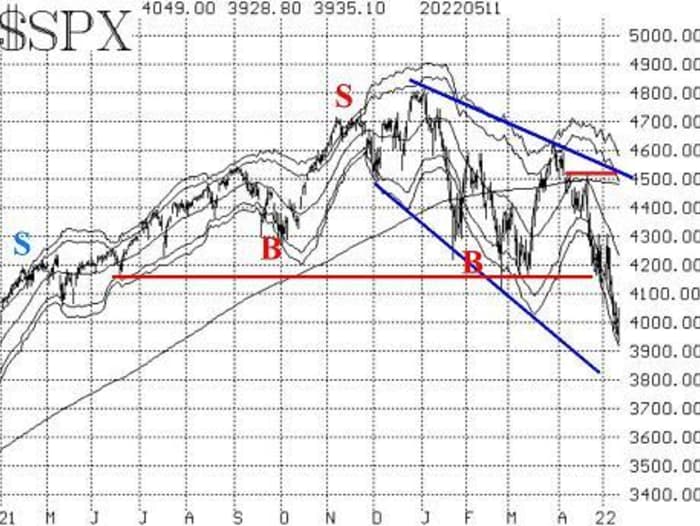 So far, SPX has not set up a new McMillan Volatility Band (MVB) buy signal, because it has not closed above 4308. It would set up a new signal at lower levels if it could close below the -4σ "modified Bollinger Band." It has not been able to do that.
In fact, SPX has been "walking" down the narrow alley between the -3σ and -4σ Bands. Those Bands are dropping more rapidly now because realized volatility has increased substantially. The S&P's 20-day historical (realized) volatility is 31% – a very high level.
Equity-only put-call ratios continue to rise sharply, and that means they are still on sell signals. They will only generate buy signals when they roll over and begin to decline. This is the highest level that they have been at since March 2020, and they are certainly in oversold territory, but they are not yet on buy signals.
Meanwhile, the total put-call ratio finally registered a reading above 1.00 on one day this past week. A buy signal from that indicator does not normally occur until its 21-day moving average reaches 0.90 or higher. At this time, it is 0.837 – so it is not near a buy signal either.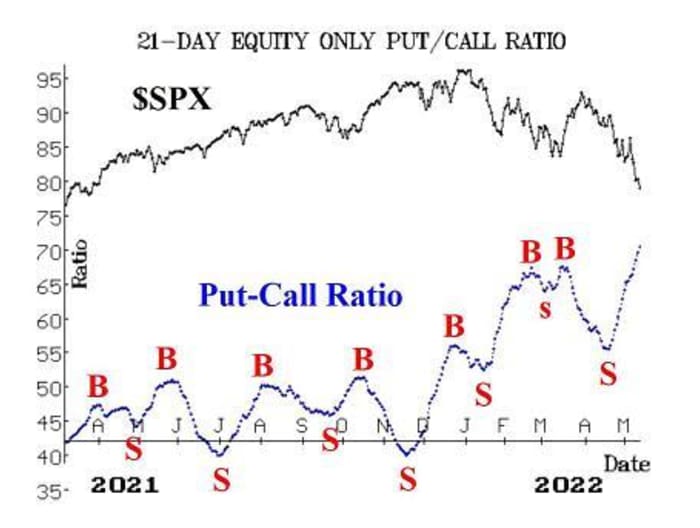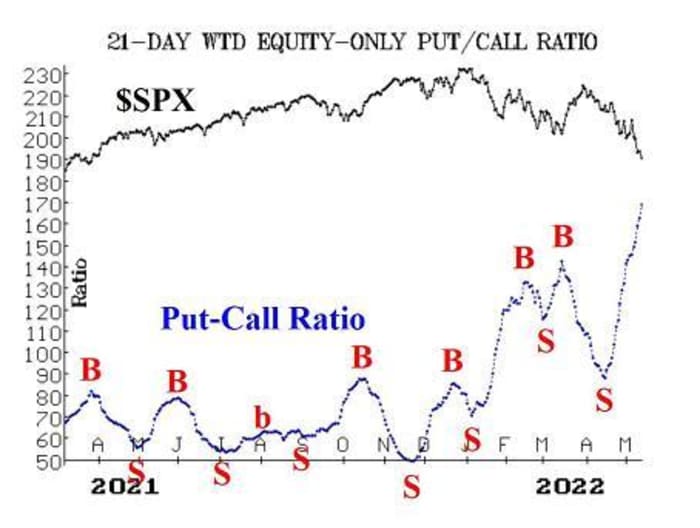 Market breadth has been poor, as one might imagine. There was another "90% down day" on May 5. Both breadth oscillators are on sell signals and are deeply oversold. These oscillators are at nearly the same levels as they were in late January, when an oversold rally did occur – but the market's psyche was in a much more bullish place in late January than it is now.
In any case, it is going to take at least two or three days of positive breadth (i.e., more advances than declines) for these to roll over to buy signals.
New 52-week lows continue to obliterate new 52-week highs. One day this week saw only 5 new highs on the NYSE. This indicator remains bearish and deeply oversold. It would take two days on which new highs exceed new lows on the NYSE to turn this bullish. That can happen sooner than one might think, but it does not seem to be in the cards at this time.
The most recent VIX "spike peak" buy signals have been stopped out, but that also means that VIX
VIX,
+2.30%
is back in "spiking mode." Thus, a new "spike peak" buy signal will set up soon. This indicator is quite sensitive to oversold reversals, and thus is usually one of the first bullish indicators in a declining market.
So far, though, the recent signals have been losing ones (blue "B's" on the accompanying VIX chart are losing "spike peak"…


Read More: Opinion: The S&P 500's charts are pointing to more stock-market losses